Price: $100.00
(as of Sep 21,2023 08:43:04 UTC – Details)
Want to expand your Italian vocabulary with almost no effort? Then keep reading.
Are you planning a trip to a Italy? Or sharpening your skills for work? Just press play on this audiobook when you're sleeping, meditating, or doing chores around the house.
Learn new vocabulary while actively listening, or passively while you're doing other things.
This audiobook contains:
More than 1000 common Italian words and phrases
More than four hours of original music (composed and performed by South African DJ and producer Spirante Beat) specifically to relax your mind
I'm sure your first question is: Can you actually learn a foreign language while you're asleep? Well, according to a Swiss research study in 2014, the answer is unassailably, YES! In this study, a group of German speakers was given a list of unfamiliar Dutch words to study. Half were instructed to get some sleep, while they listened to long lists of Dutch words and translations. The other half was instructed to stay awake. Four hours later, they were tested and the group that listened while they slept had significantly higher recall. The study concluded that people can indeed absorb new information passively during non-REM sleep – which is the deep sleep we get in the first few hours of the night.
This audiobook is divided into six chapters, each with different kinds of vocabulary, and with different music. Choose a different chapter each night, or loop the audiobook to have a continuous stream. Some listeners – those with more experience with the foreign language – have reported that these recordings allow them to dream in that language!
Sit back, relax, enjoy and LEARN!
Please note: This audiobook is in Italian.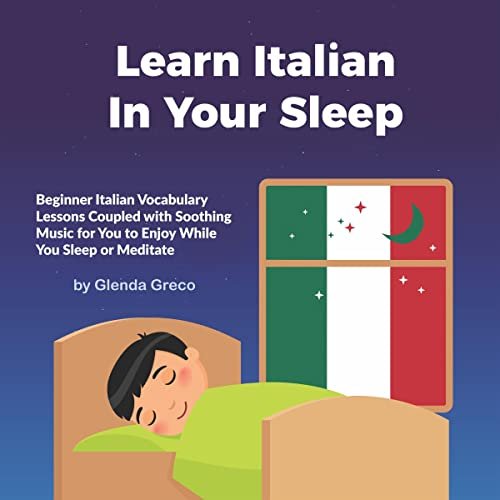 Learn Italian in Your Sleep (Italian Edition): Italian Language Vocabulary Lessons Coupled with Soothing Music for Sleep and Meditation (Learn a New Language in Your Sleep)